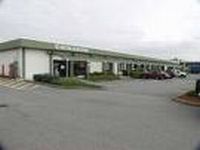 At Alcatraz Locksmiths, we have professionals who are really knowledgeable and skilled in industrial security.
Industrial sites have many different security needs including the ability to limit access to specific people, property border security, and security of products and equipment.
We are trained and certified in ADA compliance, International Building Code and NFPA compliance issues to keep you in proper compliance with the different codes and the law. Alcatraz Lock and Security can professionally help you design lock and security systems to protect your valuable industrial property.
Alcatraz Lock and Security Locksmith can easily install and repair:
UL Fire rated and non rated Panic / Exit Hardware
UL Fire rated and non rated Door Closers
Industrial Door Locks
ADA Compliant hardware
Mortise Locks
Electric Strikes
Industrial Door Hinges
Bump Proof Locks
Classroom Lever Locks
Mechanical Digital Locks
Hinges
Biometric Locks
Deadbolts
Drop bars / Burglar Bars
Industrial Door Locks
Padlocks
Electromagnetic Locks
Window Locks
Video Servers
Remote Surveillance and Monitoring
Access Control Systems
CCTV
Intruder Alarms
The expertly trained staff of industrial locksmiths can assist you with any security-related problem 24 hours a day.  Call Alcatraz Locksmith in Phoenix at 602-677-5045. Alcatraz Locksmith can also be reached through the Contact Us page.
For More Information
Alcatraz Locksmith
Address: 17627 N 4th St, Phoenix, AZ 85022, United States
Phone: (602) 677-5045