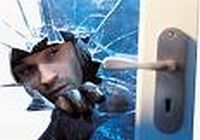 If you have ever experienced a criminal attempt to break into your home or any other property, you know how this could be a big reason to be very concerned.
Break-Ins and Theft attempts at your home, commercial, or industrial property are always frightening and aggravating!  A Certified Registered Locksmith (CRL) understands these issues and will efficiently and effectively address the damage and get it repaired to secure the premises immediately.
Break in Repair Services include:
Emergency Service
Damage assessment to lock and security systems
Door and Jamb repair
Replacement of Keys and Locks
Cutting of replacement Keys
Upgrading of existing Security Systems and Locks
Consultation of all Security Systems and Locks
Alcatraz Locksmith specializes in Break-Ins and the repair and replacement of all Lock and Security Systems.  To have us help you with a Break-In at your home, business, or industrial property, call us in Phoenix at 602-677-5045. We may also be reached through the Contact Us page.
For More Information
Alcatraz Locksmith
Address: 17627 N 4th St, Phoenix, AZ 85022, United States
Phone: (602) 677-5045