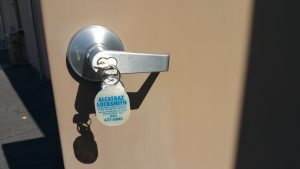 Certified Registered Locksmith (CRL)
Alcatraz Locksmith is a premier locksmith company serving the needs of commercial business customers throughout the Phoenix, AZ metropolitan area. Our reputation is built on our highly trained locksmiths and security technicians who are experts in their field. Our mission is to protect your liabilities and your property. We pay attention to all of the details and provide exceptional service for every commercial locksmith customer. We provide a wide range of locksmith services from installing new locks, repairing door locks and re-keying locks to requests as simple as key duplication. We are proud of our high-quality work and affordable rates. Most of all, we understand your need to feel secure while giving you and only you access to your assets.
Alcatraz Locksmith fully understands the critical needs of commercial business security.  We have professional knowledge of all door applications, including glass doors, and what lock needs to be installed to protect your commercial business or storefront.   If you need to change locks at your business or have a lock re-keyed, we will take care of it. We are certified registered locksmiths with the Associated Locksmiths of America, having passed numerous blocks of instruction and testing on locksmithing, keys, locks, ADA compliance and International building code compliance, and locksmith business ethics.
Commercial Locksmith Services Provided:
Replace Lost or Stolen Key
ADA Compliance (Americans with Disabilities Act)
Life Safety Code compliance
Fire code compliance
Lock Picking
Door Opening
Design and Install Master Key Systems
Re-key Existing Door Locks
Work with manufacturers' existing master key systems
Door Lock Repair
Door Lock Installation
Key Duplicates
High-Security Keys
High-Security Locks
Restricted Key Control
Master Key Systems for High-Security Locks
Keypad Locks
Biometric locking systems
Panic / Exit Hardware installation and service
Deadbolt installation
Lever installation
Door closer
Door opener
Replacement padlocks
Emergency Lockout
Lock Repair
Broken Keys removed and re-made
File Cabinet keys and locks
Security Cameras
Document Storage Security
Consultation of Security Issues
The expertly trained staff of commercial locksmiths can assist you with any security-related problem 24 hours a day.  Call Alcatraz Locksmith in Phoenix at 602-677-5045. Alcatraz Locksmith can also be reached through the Contact Us page.
For More Information
Alcatraz Locksmith
Address: 17627 N 4th St, Phoenix, AZ 85022, United States
Phone: (602) 677-5045