Today, we'll be diving into a crucial topic that demands our attention: preserving privacy and safety in schools through the ethical use of CCTV cameras. It's a delicate balance between ensuring the security of students and staff while respecting their privacy rights. Join us as we explore the importance of ethical practices in CCTV camera usage within educational institutions.
The Role of CCTV Cameras in School Security
Before we delve into the ethical considerations, let's understand why CCTV cameras have become a common sight in schools. These cameras serve as a powerful tool in enhancing security measures and maintaining a safe learning environment. By strategically placing CCTV cameras throughout the school premises, administrators and security personnel gain visibility into potential security threats, monitor activities in real-time, and provide valuable evidence in case of incidents.
Safeguarding Privacy: Ethical Considerations
While the use of CCTV cameras in schools can greatly contribute to safety, it's essential to navigate the ethical landscape with caution. Respecting the privacy rights of students, staff, and visitors should be a top priority. Let's explore some key considerations to ensure the ethical use of CCTV cameras in schools:
1. Strike the Right Balance
Finding the balance between security and privacy is vital. It's crucial to establish clear guidelines on camera placement, ensuring that sensitive areas such as restrooms, locker rooms, and counseling offices remain free from surveillance. By carefully selecting camera locations, schools can prioritize security without unnecessarily intruding on privacy.
2. Transparent Communication
Open and transparent communication with students, staff, and parents is crucial. Schools should clearly communicate the purpose, benefits, and limitations of CCTV cameras. Sharing the objectives and policies related to surveillance helps build trust and ensures that everyone is well-informed about the use of CCTV cameras on the premises.
3. Access Control and Data Security
Proper access control mechanisms must be in place to ensure that only authorized individuals have access to the CCTV camera feeds. Schools should have strict protocols to safeguard recorded footage and prevent unauthorized disclosure or misuse. Implementing strong data security measures, such as encryption and regular data backups, is essential to protect the privacy of all stakeholders.
4. Retention and Destruction Policies
Establishing clear retention and destruction policies is crucial to prevent the unnecessary storage of footage and potential privacy breaches. Schools should define a specific retention period based on legal requirements and the purposes for which the footage is collected. Once the retention period expires, the footage should be promptly and securely destroyed.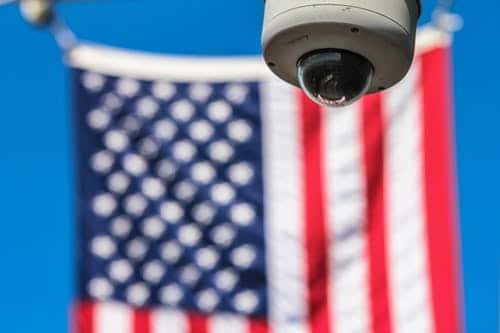 5. Monitoring and Auditing
Regular monitoring and auditing of CCTV camera systems are necessary to identify any breaches or misuse. Schools should conduct periodic reviews to ensure compliance with ethical guidelines and address any issues promptly. This helps maintain accountability and ensures that the systems are used responsibly.
The Consequences of Irresponsible Privacy Practices
Irresponsible handling of privacy within schools can have severe consequences that impact not only the reputation of the educational institution but also the well-being and trust of students and staff. Let's take a closer look at the potential outcomes of irresponsible privacy practices:
1. Breach of Trust
When a school fails to uphold privacy standards, it breaches the trust placed in its care. Students, parents, and staff expect their privacy to be respected within the educational environment. Any violation of this trust can result in a significant loss of confidence and undermine the sense of security within the school community.
2. Negative Impact on Mental Health
Privacy is closely linked to an individual's sense of autonomy and personal space. Invasive surveillance or mishandling of personal information can lead to increased stress, anxiety, and a sense of constant scrutiny among students and staff. This can have detrimental effects on their mental health, academic performance, and overall well-being.
3. Legal and Regulatory Consequences
Negligence or intentional violation of privacy can have legal and regulatory implications for schools. Depending on the jurisdiction, there may be specific laws governing the use of CCTV cameras in educational institutions. Non-compliance with these laws can result in fines, legal actions, and reputational damage.
4. Damage to School Reputation
News of privacy breaches or irresponsible privacy practices can spread quickly, tarnishing the reputation of the school. Negative publicity and public backlash can lead to decreased enrollment, loss of trust from parents and the community, and long-term damage to the school's standing.
5. Erosion of Staff Morale
When staff members feel that their privacy is compromised or that their actions are constantly monitored, it can lead to a decline in morale and job satisfaction. This, in turn, may impact productivity, teamwork, and the overall working environment within the school.
6. Loss of Student Confidence
Students need to feel safe, respected, and valued within their educational environment. Any breach of privacy can erode their confidence in the school's ability to protect them. This loss of confidence may result in students feeling insecure, affecting their academic performance, attendance, and willingness to engage in school activities.
7. Parental Concerns and Withdrawal
Parents are naturally concerned about their children's safety and privacy. If they perceive that the school is not responsibly handling privacy matters, they may express their concerns or even withdraw their children from the institution. Such actions can have a significant impact on the school's enrollment and financial stability.
Partnering with Ethical CCTV Installation Companies
To navigate the complexities of ethical CCTV camera usage in schools, it's essential to work with experienced and licensed CCTV installation companies. These companies understand the legal and ethical implications and can guide schools in making informed decisions.
Introducing Alcatraz Locksmith: Your Ethical Security Partner
When it comes to safeguarding privacy and ensuring ethical CCTV camera installation, Alcatraz Locksmith is your trusted partner. With their years of expertise in the security industry, Alcatraz Locksmith understands the unique needs of schools and the importance of maintaining a balance between security and privacy.
Stay Ethically Informed: Seek Guidance from Alcatraz Locksmith
Before implementing a CCTV camera system in your school, it's crucial to be pre-informed about the ethical considerations involved. Alcatraz Locksmith is here to assist you every step of the way. Our knowledgeable team will help you understand the ethical guidelines, develop customized camera placement strategies, and ensure compliance with privacy regulations.
Take the first step towards an ethically responsible and secure school environment by partnering with Alcatraz Locksmith.
Conclusion
Preserving privacy while ensuring the safety of students and staff is of utmost importance in schools. Ethical use of CCTV cameras plays a pivotal role in striking the right balance. By implementing transparent practices, respecting privacy rights, and partnering with ethical installation companies like Alcatraz Locksmith, schools can create a secure environment while upholding ethical standards.
Remember, being pre-informed about the ethics of CCTV camera usage is essential before making any purchasing decisions. Prioritize the privacy and safety of your educational institution and choose an ethical approach towards security.
Stay ethically responsible, stay secure!