Have you heard of keyless door locks? They seem futuristic but they're quite common these days.
If you have ever misplaced your keys or had a break-in at your apartment, then you need to install a keyless door lock in your home. Keyless door locks are a type of commercial security system that allows authorized users to access a restricted area without using a handy or physical key. 
Also known as remote central locks, they usually require electricity or a magnetic property to operate. Although they come in varying shapes and sizes, each has a proximity card reader which is used to validate access to the restricted areas. The proximity card reader contains authorized credentials of the user to validate entry. Once the identity matches that on the keyless access system, it triggers an unlock.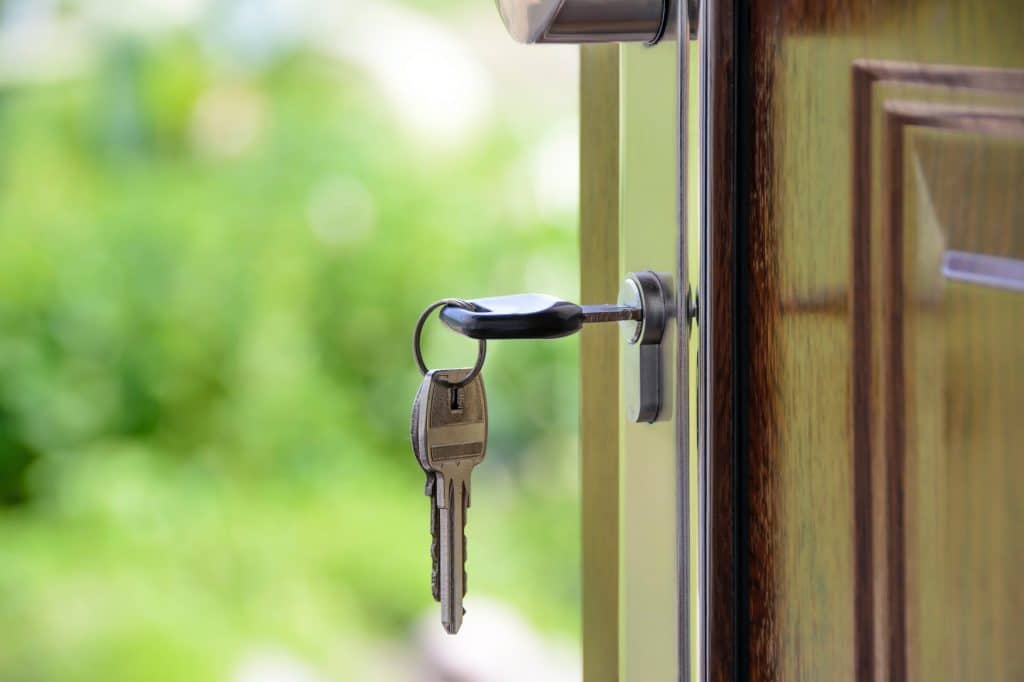 Types of Keyless Door Locking System
All keyless door locking systems are an excellent option for commercial building security. Before installing a keyless door system in your building, it is vital to understand the various types of keyless door locks and how they operate. Below is the common type of keyless door locking system.
1. Proximity key cards
This type of lock is accessible using key cards. Proximity key cards or prox cards allow users to gain access to a restricted area in a building. They are lighter to carry compared to traditional metal keys. Although this is the first keyless door lock created, it is advisable to use encrypted smart cards. This type of prox cards provides more security. 
2. Key fobs
Key fobs are quite similar to key cards. It's a device that provides authentication to access a restricted room or building. Compared to prox cards, the key fobs are more convenient and secure. A fob doesn't contain the user's personal information, making it harder for hackers to access the system.
3. Biometrics
This is a more advanced type of keyless door lock. It allows photo scans, fingerprints, iris scans, etc, to verify or validate access into a restricted area or building. They are sometimes coupled with key cards usually as a form of verification. Usually, companies integrate biometrics into other types of keyless door lock systems to increase security.
4. Mobile access control
Unlike other keyless door lock systems, this type uses a smartphone to access a restricted area or building. As a result of advancements in technology, this kind of commercial security system is getting more popular. Aside from the security it provides, it is more convenient than other keyless door lock systems. With mobile access control, it's possible to customize the features depending on the security requirements.
5. Hybrid keyless door entry systems
This type of keyless lock system combines mobile access control, key fobs, and key cards on one system.
6. Video enabled keyless entry
Compared to the other types of commercial security systems, this kind couples prox cards with video surveillance.
Pros of Keyless Door Systems
As a result of the convenience it provides, the keyless door system has many benefits. Besides saving you costs of replacing metal locks and keys, it also offers modern security in your apartment. Here are more reasons why you should install a keyless door lock in your building.
1. Advanced security systems
Compared to traditional metal keys, keyless door locks provide more advanced security to your building. Unlike metal keys which you can duplicate, keyless door locks have end-to-end encryption that protects the user data. This makes it harder to steal users' information from the system.
These keyless systems come with additional security features such as multiple access mode, dead latches, exit devices, anti-tamper lockout, etc. This prevents security threats like robberies or theft.
2. More convenient and easier to use
When it comes to commercial security systems, convenience is the first thing that pops into the mind. Nothing is more thrilling than not having to jumble between keys just to find the right one! With a keyless access control system, you have access to a wider range of security systems to choose from.
In addition, traditional keys are easier to lose compared to keyless door locks. Imagine losing a vital key on your way home. With a keyless entry system, there's no need to change the entire lock system. You can simply deactivate the information of the old card from the system. Also, a new card can be issued with new credentials and authorization.
3. Provides access to better data and broad insights
Traditional metal keys do not provide any relevant information on who accesses a building or space. This makes it hard to get valuable information, especially when break-ins occur in your building. Keyless door locks have end-to-end encryption on the system, which provides the required information needed on the user.
Moreso, using video-enabled keyless systems provides accurate information through CCTV footage. If you travel or leave your apartment, you can easily track who visited your home and when they did.
4. Quite pricey but Cost-effective
Keyless card entry systems may be expensive to install; they provide value for your money. It saves costs of re-keying locks, most especially when the previous lock is faulty. This can be a huge burden on your finances.
Keyless entry locks make it easier to add or remove users. It also has a seamless system that manages a pool of individuals without requiring any technical knowledge.
Cons of Keyless Access Systems
Despite the fantastic benefits of keyless door locks, it also has its disadvantages. Here are a couple of things you could experience using a keyless lock in your home.
1. Expensive to install
Sometimes, cheap doesn't always mean better. In this case, keyless entry systems are not inexpensive. The costs of getting one and installing it in your home are high compared to traditional locks.
In addition, finding the right contractor who specializes in keyless card systems can be a hassle. Plus, they usually charge more than regular contractors. This is why some buildings have them installed in stages. If you have a meager budget, a keyless lock might not be the perfect option for you.
2. Software compatibility
When installing a keyless door lock, you have to ensure that it is compatible with
3. Power failure
Power failures do not always happen, but they inevitably do. In scenarios such as this, it will be impossible to use keyless door locks. This means you have to have a separate means of generating power in your home.
4. Possibility of hacking
Despite the advanced security keyless entry systems provide, they can still be hacked. The hackers who specialize in breaking into buildings with these kinds of doors may target you. For more security, it is advisable to use a password that is harder to memorize.
5. Risk of malfunctioning
Just like every other technology device, keyless access systems also come with the risk of malfunctioning. Although most are built to last longer without faults, it doesn't provide a 100% guarantee. When this happens, you might need the services of a professional to deactivate the lock system.
Keyless card access control is undeniably a great investment in securing your apartment. For a seamless process in installing one, contact an residential locksmith in Arizona. We have professionals who are available 24/7.