What could be more frustrating than not being able to get home due to a jammed lock? The maintenance of a lock is not a desirable but necessary action, in order to prevent it from getting damaged over time. 
The lock also has a determining role on the door as a whole because it conditions its operation. Indeed, a lock can cause problems when closing the door. You can lose caloric energy, which has repercussions on your heating bill, not to mention the inconvenience of drafts that spread through the house or apartment.
Finally, a damaged lock is also a higher potential risk of a break-in. You will unwittingly facilitate the work of a burglar!
Seized cylinder, old barrel, there are many possibilities for your lock to get dirty and it is, therefore, advisable to act before it is too late!
So how do you maintain a lock to ensure its longevity? How to oil the closing system so that it remains operational in all circumstances? The lifespan of a lock depends essentially on the quality and frequency of maintenance given to it.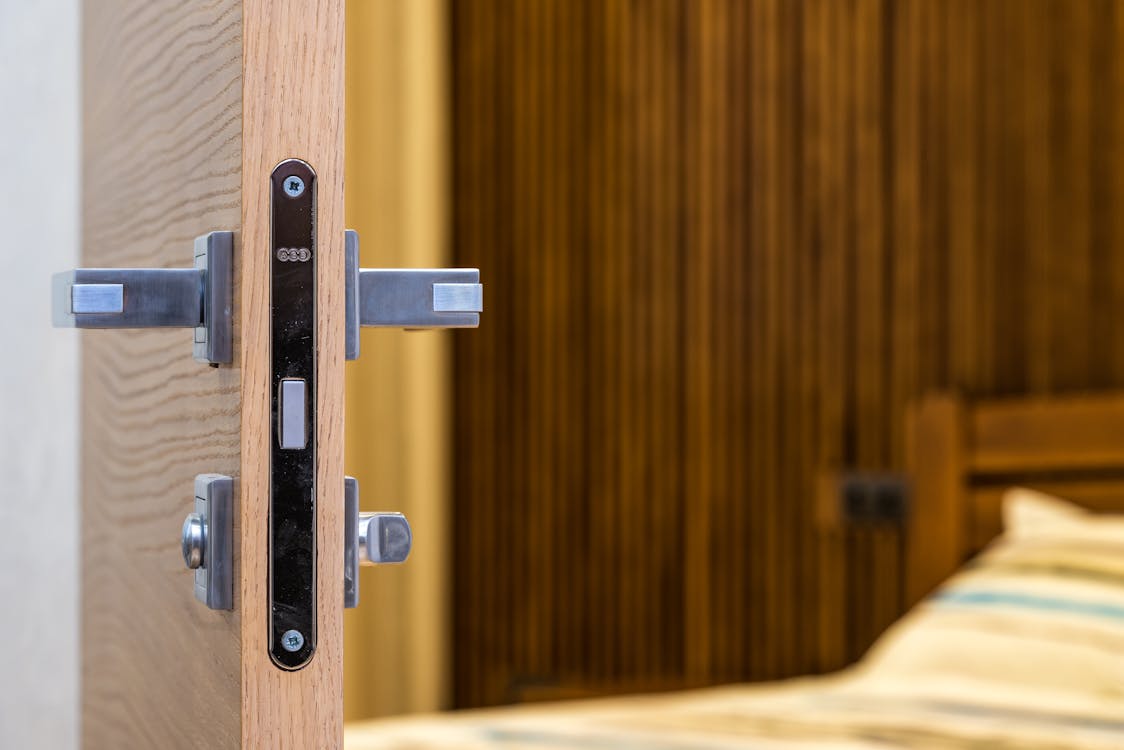 How to maintain a lock?
As a general rule, the jamming of a lock does not happen by chance. This means that at one time or another care has been taken and maintenance has been neglected. Climatic conditions are often the cause of a lock seizing and in particular humidity with bad weather, frost, and even sea air if you live by the sea. The lock mechanism can become damaged. jam (rust) more easily than you think because a lock is made up of very small metal parts which can condemn the mechanism of the lock as a whole.
If this happens, the first rule to follow is above all not to force the key in the lock because the latter could break and we will have no choice but to call in a professional. In other cases, you may oil your lock, if it is old, seriously seized up or if rust has attacked the inside of the cylinder, the intervention of a locksmith will surely be necessary.
Techniques to prevent problems with your door lock
Lubricating your lock on a regular basis is the most common solution. The grease introduced into the lock prevents its various components from seizing up over time. The lubricant also makes it possible to avoid the accumulation of unwanted dust which comes to wedge itself between the small metal parts.
The lubricants exist in the form of a spray which is generally embellished with a long hollow rod to better target the parts to be greased and thus come to lodge at the level of the cylinder of the lock for more efficiency.
It is therefore sufficient to spray this space once or twice and then clean the deposits which flow from the cylinder. Be careful, the latter can be very dirty, the grease will be too. So be prepared to clean the grime very quickly with the help of a slightly damp cloth.
Note that if you simply want to dust off the lock without greasing the entire cylinder, you can use a small compressed air canister. If this all sounds a bit complicated and you don't want to get your hands dirty, hire a professional locksmith.
Specific cases
Tumbler lock
Pour one or two drops of oil into the key before inserting it. Wait about thirty seconds then turn gently. This will lubricate the entire mechanism.
In both cases, be sure to clean the key when taking it out of the lock so that it does not dirty the door and the floor covering.
Another locksmith hack for lock cleaning and maintenance
If your key is a little rusty, consider soaking it for about a day in white vinegar or Coca-Cola for about 1 day. Then clean it with clean water and dry it with a microfiber cloth.
One last tip: Get a professional to help with door lock maintenance
If you decided to call a residential or commercial locksmith to maintain and clean your locks, use these tips to make sure you're hire is solid:
If you are painting, it is important to cover your locks before you begin. The locksmith needs to be called if you accidentally seal a lock. It could take some time to provide all locks with adequate protection, but it will prevent you from having to replace all your locks.

Before you hire a locksmith, research his background. It's important to hire someone that is working for you.

You want to make sure that you hire is working for your best interest and not their own. Some locksmiths are scammers and will make their own copy of your keys.

Always be prepared, regardless of whether you think you'll ever be locked out or not. You want to have a reputable locksmith in mind before an emergency arises. Then, save the number in your mobile phone.

Always get a receipt. While most of the locksmiths you encounter will be honest, there are those few that try to scam others.

You should prepare yourself even if you need a locksmith is necessary. Research to find reputable professionals that you can trust. Put a locksmith's contact number in your cell phone so it is always available to you.

Using a locksmith during regular business hours saves you excess charges. After business hours, locksmith rates can vary greatly. For instance, you might pay 50 bucks for a service call during the day, but at night it will cost you double that.

If you're unsure about the reliability of a particular locksmith, you need to look them up on the website of the Better Business Bureau. This will give you the information you need for your peace of mind.

Get references before you allow a locksmith in your home. Call all of the references before hiring them. You need the best quality of service but also a person you can really trust.

Look for locksmiths who are active within their communities. It's comforting to know that he/she is a professional who is on top of current trends. Additionally, the locksmith is less likely to be disreputable.

Get references and recommendations before you allow a locksmith in your house. Once you get these references, follow through and call them.