Alcatraz Locksmith specializes in Car keys and Truck keys and vehicle lock systems. Never worry if you lose your keys again!  We will immediately dispatch one of our high quality certified automotive locksmiths to get you back in your vehicle and make a new car or truck key.
Certified Automotive Locksmith (CRL)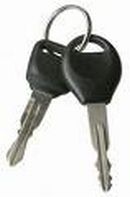 We are fully equipped and knowledgeable in all of the proper techniques to professionally get you on your way.  Whether you have locked your keys in your vehicle or just lost them, We can handle the situation.
We are fully equipped to make new replacement car keys and truck keys and program them on the spot.  Using codes and proper automotive locksmith techniques and equipment, we can know exactly which key we need to make a key for you in order to get you back on the road.  We are skillful and considerate enough that we will not damage your car or truck in the process of getting you back into your car.  Our knowledge, experience, and certification will provide you with the peace of mind that you are getting an automotive locksmith job done right and professionally!
In the event a car or truck key has been stolen, we can remove and rekey, or change all the vehicle locks to a new, factory spec key, deprogram and reprogram the transponder immobilizer computer for the vehicle anti-theft system, and program new remotes, or just deprogram the missing ones.
One of the other benefits of using our service is that it can be reimbursed by AAA (for members) or Roadside Services from insurance or other providers!
Replacement Key and Replacement Remote Service For:
Acura
, Alfa Romeo, AMC, American, Audi, BMW, Buick, Cadillac, Chevrolet, Chrysler, Daewoo, Daihatsu, Datsun, Dodge, Eagle, Ferrari, Fiat, Ford, Freightliner, Geo, GMC, Hino, Honda, Hummer, Hyundai, Infiniti, International, Isuzu, Iveco truck, Jaguar, Jeep, Kenworth, Kia, Lamborghini, Land Rover, Lexus, Lincoln, MG, Mack Truck, Mazda, Mercedes Benz, Mercury, Merkur, Mini, Mitsubishi, Navistar, Nissan, Oldsmobile, Peterbilt, Peugeot, Plymouth, Pontiac, Porsche, Renault, Rolls Royce, Saab, Saturn, Scion, Sterling, Sterling Truck, Subaru, Suzuki, Toyota, Triumph, Volkswagen, Volvo, White.
Automotive Locksmith Services:
automotive key cutting
lockout service
car door unlocking
ignition repair
door lock repair
transponder immobilizer programming
key duplication
key copies
remote programming
keyless entry programming
broken key removal
laser key cutting
key origination
electronic car keys
new car keys
rekeying auto locks
key fobs
Laser Keys can be made on the spot for High Security automotive!
Contact Alcatraz Locksmith for all of the Locksmith needs for your vehicle.  We can be reached in Phoenix at 602-677-5045. You can also reach us through the Contact Us page.
For More Information
Alcatraz Locksmith
Address: 17627 N 4th St, Phoenix, AZ 85022, United States
Phone: (602) 677-5045