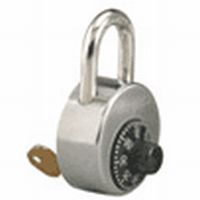 Alcatraz Locksmith has you covered in those situations when your padlock requires replacement. The replacements are always certified original from top-class manufacturers around the world.
We can assist you with any situation that requires the use of a padlock. We have the knowledge of padlocks for use in residential, commercial, and industrial applications.  Alcatraz Locksmith works with any padlock brand that is in production.  Whether you have lost the keys to your padlock and need it removed, or need a completely new padlock, we can get you all set up.  If a new key for your padlock is needed, we can use the codes on the padlock or special locksmith techniques to properly manufacture you a replacement key.  Our mobile units are fully equipped to make a new or duplicate key right on the spot!
We can provide High-Security cylinders in padlocks for the ultimate in key control!
No picking, no key bumping, no unauthorized duplicate keys can be made.
Residential Padlock Service and Sales
A Locksmith can remove a padlock that is locked without keys, and without damage.
A new padlock can be provided to replace the one removed.
We can provide padlocks keyed to match your home, for gates and exterior buildings. The padlocks can be master keyed so that your house key works them, and a service level key (landscape or pool service, etc.) can be provided that works the padlocks but not the house!
Fabrication of hasps for gates and storage sheds available.
Commercial and Industrial Padlock Service and Sales
Padlocks can be removed without damage form gates and storage containers.
Lockout, padlocks are available for safety lockout.
Padlocks can be added to an existing master key system for a building.
Padlocks can be rekeyed when the rest of the building or facility is rekeyed and can use the same key.
Extreme Duty Padlocks are available and can be customized to fit any application where physical security is a concern.
High-Security Gate hasps can be installed to lower the risk of theft or tampering.
Hasps and extra security enclosures can be fabricated to stop theft and vandalism
Restricted access keys and keyways are available for security against unauthorized duplication and entry.
High-Security Padlocks that are pick resistant, bump key resistant, and drill resistant are also available.
Automotive and Fleet Padlock Service and Sales
Padlocks that are adapted to automotive padlock and fleet padlock applications are available in any and all forms needed.
Commercial vehicle padlocks for truck bed boxes, commercial truck beds, trailer hitches are available in keyed alike, master keyed for individual trucks or master keyed for an entire fleet.
Heavy duty hasps and high-security hasps can be provided and installed at your location.
Fabrication is available for special commercial vehicle security needs.
Kingpin locks for tractor trailer and fifth wheel are available in all sizes, with a multitude of key options, master key options for fleets, and high-security key options for extreme security needs.
There are a host of other lock related automotive and fleet products also available, such as column locks, club-like devices, and heavy-duty security chain.
The Certified Registered Locksmiths are knowledgeable, experienced, and certified to provide you the best Padlock Service around. We offer locksmith service to the entire Phoenix Metropolitan area, including the towns of Paradise Valley, Peoria, Glendale, Scottsdale, Tempe, Mesa, Chandler, etc.
Here is a list of padlocks that we carry and service:
Abus
American
Cisa
Master Lock
Medeco
Mul-T-Lock
Pacific
Wilson-Bohannon
many, many more, call us if you have something not listed here.
For more information about getting your home, business or industrial padlock serviced, contact Alcatraz Locksmith Company.  We can be reached in Phoenix at 602-644-5045. You may also reach us through the Contact Us page.
For More Information
Alcatraz Locksmith
Address: 17627 N 4th St, Phoenix, AZ 85022, United States
Phone: (602) 677-5045