The front door is an essential element that plays an important role in the security and aesthetics of the house. In fact, they are available in a wide range at market level with developed technical performance.
The manufacture of entrance doors mainly focuses on good thermal and acoustic insulation, robustness, tightness and aesthetics. In addition, given the very diverse models that appear on the market, this article is made available to you to present the various criteria to be taken into consideration in order to choose your front door.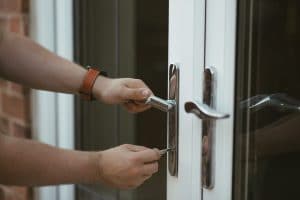 Choice of Materials
Entrance doors can be made from several materials, each of which has its own specificities in terms of insulation, robustness, aesthetics, comfort, etc.
Wood
It is a beautiful and charming material. It is ideal for modern and contemporary homes. It is characterized by its robustness and its good thermal and acoustic insulation. It is found in several models to suit different styles. We advise you to choose a good wood such as oak or moabi to guarantee good resistance, especially against bad weather.
PVC
PVC is a good insulator and has good resistance to weathering. The only flaw that it presents is that it is not sure on the security side.
Aluminum
This is a good material from a safety point of view and from an insulation point of view. In fact, it is a current material which is available on the market in several colors. The only flaw that it presents is its very expensive cost.
Steel
It is a less expensive material than aluminum and is perfect from a safety point of view, except that you must check its thermal insulation before buying it.
Fiberglass composite
It is a current and latest generation material. It is very trendy and fashionable due to its great resistance, its excellent insulation. In fact, the door that contains glass is very charming and aesthetic.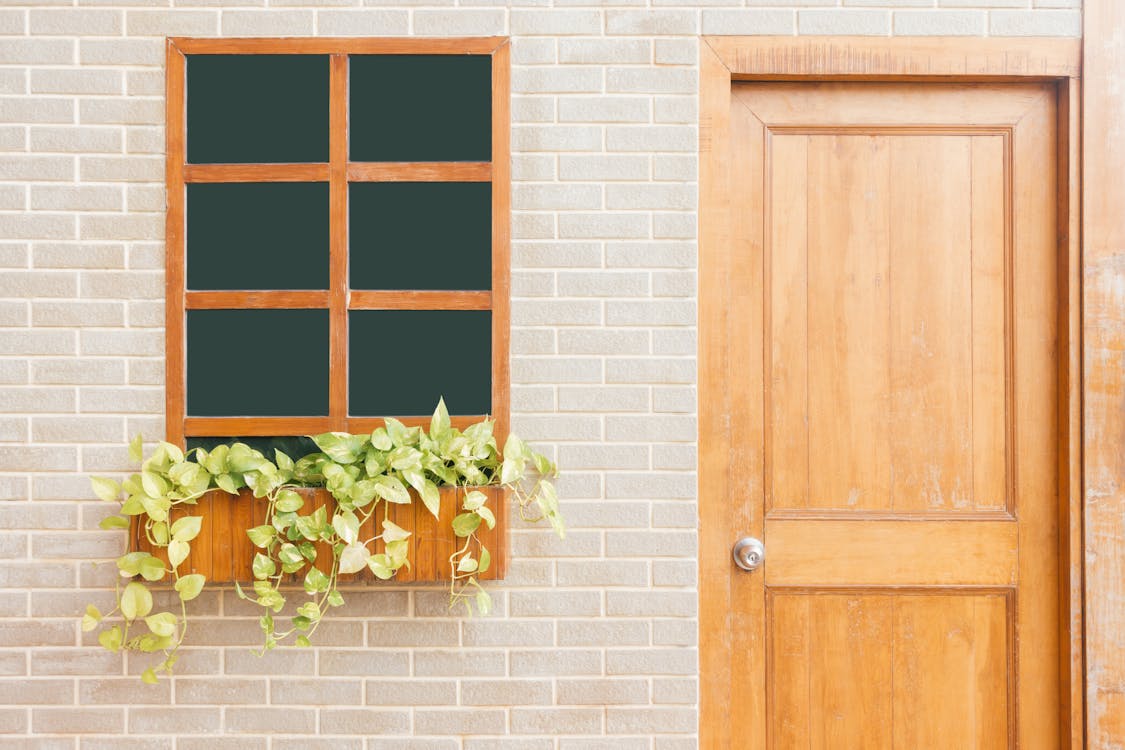 Models and Finishes to Choose
Usually, doors are presented in standard sizes with a wide variety of models and finishes. In the first place, one quotes the solid door, which is characterized by its good security and its robustness.
Subsequently, we cite the semi-glazed door, which is a model that combines the glazed door and the solid door. It allows you to enjoy remarkable clarity, charm and security.
And finally, we mention the fully glazed door, which brings you a good contribution of heat and light. This is a very charming, unique and lightweight door.
Regarding the finish, you can find several ideas on the market that can be adapted with your door: several patterns, accessories, handles, lacquering, etc.
Choose an insulating and watertight door
Insulation and tightness are the most important criteria to check before buying a door. These two criteria are to be identified from the material chosen and the thickness of the door.
The coefficient Ud, (u): thermal conductivity and (d): gate, is the determining coefficient of the thermal insulation point of view. The higher this is, the greater the heat loss. Models with Ud ≤ 1.8 W / m2.K are the most suitable.
Certification and burglary resistance
Given the fairly high burglary rate in France, it is wise to think about your safety by choosing a door that is resistant on several sides (materials, locks, hinges, etc.).
Multi-point locks are a guarantee of security and are highly recommended. We advise you to choose A2P certified products that come in several classes: A2P1 (resistance of 5 minutes), A2P2 (resistance of 10 minutes), and A2P3 (resistance of 15 minutes).
How Electronic Locks Fit Into the Picture
Electronic locks or smart locks have been gaining popularity over the last decade as they offer numerous benefits over traditional keyed locks.
These locks have several automated featured that makes them very attractive and numerous cutting-edge security providers now sell them at competitive prices for homes and businesses.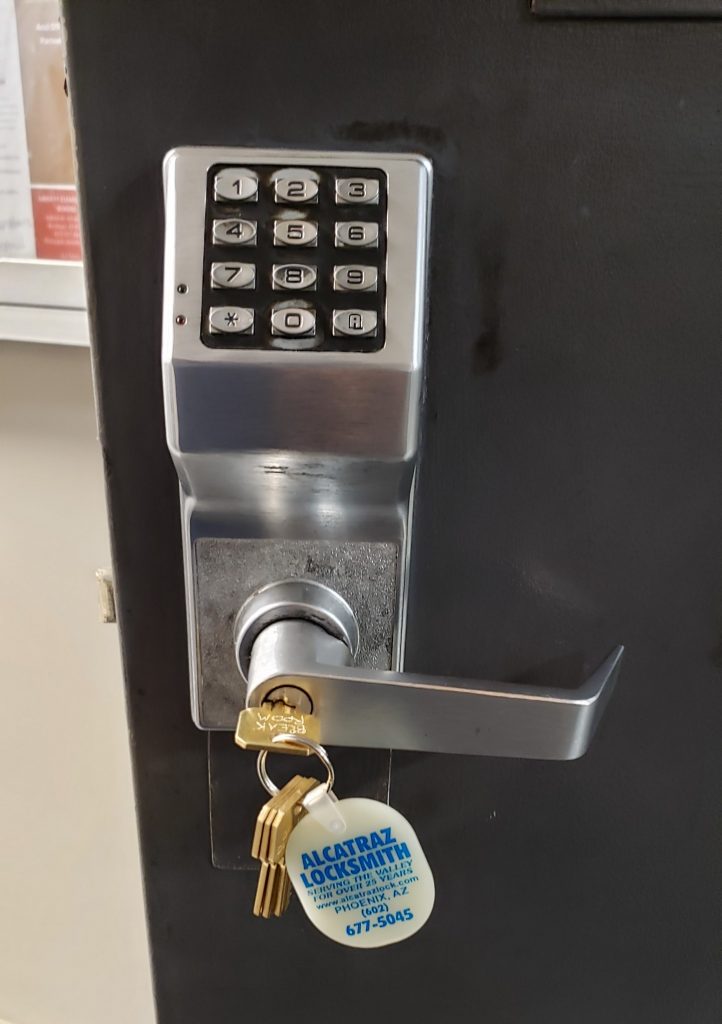 The most popular and well-known type of electronic locks is electric strikes, electric latch retractions, electromechanical locks, electromagnetic locks, biometric locks, and NFC locks.
They may or may not have a physical locking mechanism as well.
Electrical currents are required
Electrical currents are used to power a motor, a solenoid, or an electromagnet depending on the composition of the lock in question.
Such locks are typically either fail-secure or fail-safe.
The current is needed to both open and closes the lock, and you essentially need an electronic key to do both.
The definition of a key is broad in this sense as it could be a traditional key, a code, a retinal scan, an NFC signal, or some other electrical mechanism.
Traditional locks typically rely on some variation of the 'pin and tumbler' method for their mechanisms.
When a key is inserted, the key essentially moves each of the small metal pins within a lock to a particular distance to create an entry.
In an electronic lock, an actuator is used to connect the bolt to a motor which may or may not be buried within a door.
This motor is controlled electronically and can be triggered in any way depending on the manufacturer's choice.
The door lock is opened only when the motor-driven actuator gets the preset electric input.
Types of Electric Locks
Access control systems: that release the door slip. The user is identified by an RFID card. They can typically be seen in office buildings or hospitals.
Biometric locks: they also act on the latch lock on the door frame. Usually, the user activates them with the fingerprint. Surely you have seen some if you go to the gym.
Wireless car keys: practically all cars use them now.
Electronic locks for mobile opening. These are not so common, but you will certainly see them more and more. The user opens the door via the Bluetooth of the mobile phone or sometimes also via NFC.
Motorizations of mechanical locks. They are beginning to be seen at the domestic level. They are installed on a mechanical lock from the inside using the conventional key.
How does it affect locksmiths?
Alcatraz Lock specializes in dealing with electronic locks as they are widely considered to be the future for locks.
In this age, being an electronic locksmith is a very profitable career choice, and locksmiths who do not know how to work with electronic locks are at a disadvantage, especially in big cities and suburban areas.
There are several courses offered for locksmiths that provide training in this avenue and they have become exceedingly popular as traditional locksmiths aim to expand their skill set to either retain or expand their customer base.
Conclusion
Most electronic locking mechanisms have their cons such as expense, hackability, and susceptibility to damage.
However, they offer far more benefits over traditional locks such as greater security, controlled access, instant resetting, and long-winded, secure codes.
One day the world will have nothing but electronic locks and traditional locks will be obsolete, but in today's world, practicality takes precedence.
You should ideally make the investment in an electronic locking system only if your security needs are quite high. Of course, if you just want an electronic lock, go ahead!