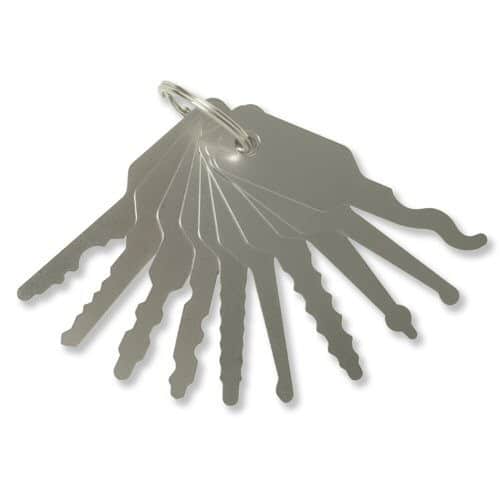 How to save yourself from lock bumping!
With how smart people are becoming nowadays there is this thing called lock pumping. Lock Bumping is a simple method that is quick and easy for anyone to enter into your homes by any means.
What is "lock bumping?"
Chances are you've never heard of lock bumping. This is a more common technique used by burglar's that allows them entry into anywhere that they please. Lock bumping is a method in which it consists of modifying a certain key in a way that allows it to fit many types of locks. The intruder then does numerous blows to their key and tensor which causes it to act on the pins directly as if it were the key. This is a more common technique used by burglars that allows them entry
Save yourself!

With this becoming more increasingly popular in the number of burglaries One thing that we do recommend is to change the cylinder in the lock and protected with a shield. Your safety isn't any type of joke. Your family could be one of these victims at any time any day.
Popular products?
In the past months, we have received many types of items that have been demanded by our clients. Kaba expert lam high-security safety lock is a popular product for many reasons. It is meant by the UNE 1303 standard for safety cylinders and is also made of reinforcement of steel that increases the resistance to attempts to open by force. Along with 22 active pins in four rows. In the next hot product that customers demand when it comes to safety is the TK 100 cylinder. This is also certified and will protect you against drilling, bumping, and anti-twist. The cylinder, in this case, is extremely durable exceeding over 100,000 opening cycles.

Call us!
Feel free to give us a call any day. Alcatraz lock service has your back for any type of locksmithing job. We are the professionals that you need. We have served over 29,000 happy clients and have been around for over 32 years. We know what it takes to get any job done so give us a call at 602-677-5045! Covering all of your locksmithing needs in anthem easy, Glendale AZ, Paradise Valley AZ, Peoria AZ, Phoenix AZ, Scottsdale AZ, Sun City AZ, Tempe Az, and any other neighboring cities! Your safety matters so treat it like it does!